These are some ways you can help make the 'World Hijab Day' event successful, insha'Allah.
Update your Facebook profile picture with World Hijab Day 2018 campaign frame using this link: https://goo.gl/Kh1Qiv
Join and invite your friends to Facebook event page: 

https://www.facebook.com/events/1755651491120522/

Print out World Hijab Day

Flye

rs

 ,

Brochure

, and post it in your Masjid, School, University, etc. And, don't forget to hand it out to the public!
Call up your non-Hijabi and non-Muslim friends and inform them about World Hijab Day! And, show them your support. This could be a day where you get together to wear the Hijab.
Inform your local Imams  about World Hijab Day and request them  to give  khutbah (sermon) on hijab  during Friday prayer.  Ask them to encourage sisters to wear the Hijab on February1st, insha'Allah.
Set up a Hijab table at your local Masjid and/or at your school, university, etc.
Send out an e-mail to all of your friends informing them about World Hijab Day.
Share and upload the World Hijab Day video on youtube, facebook, twitter, instagram, etc.
Share  this "World Hijab Day VIP Invite ('1-2-1 Chain') with someone who doesn't wear hijab, Muslim or non-Muslim alike, to join you to wear it for the first time: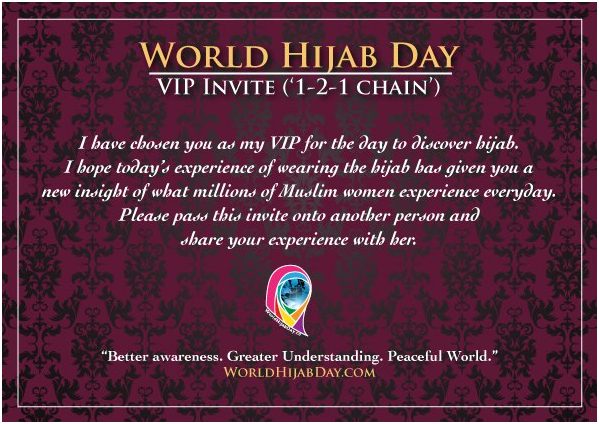 Find your own ways to spread the word for the sake of Allah (swt).